The outdoor education division of Treks 'n Rapids conducts some highly meaningful and exciting soft adventure based outdoor leadership development programs for school students and children across India.
'CHIPMUNKS' our school and children program module focuses on personality development, confidence building, making new friends, exploring the outdoors and developing a positive outlook. Students get introduced to activities like Rock Climbing, Obstacle Course, Valley Crossing, Jungle Camping, Bird watching, Astronomy sessions and many other interesting workshops and team building activities.
Confident Ever After
The vision of CHIPMUNKS is to facilitate 'complete childhood'. In this increasingly demanding and competitive world, where a child is constantly juggling academics and co-curricular activities, what is missing is a connect with Mother Nature. Our cities are already coughing up new challenges to be met every day and a child is not spared. CHIPMUNKS aims to provide children a platform to appreciate nature and develop a sense of adventure and survival skills.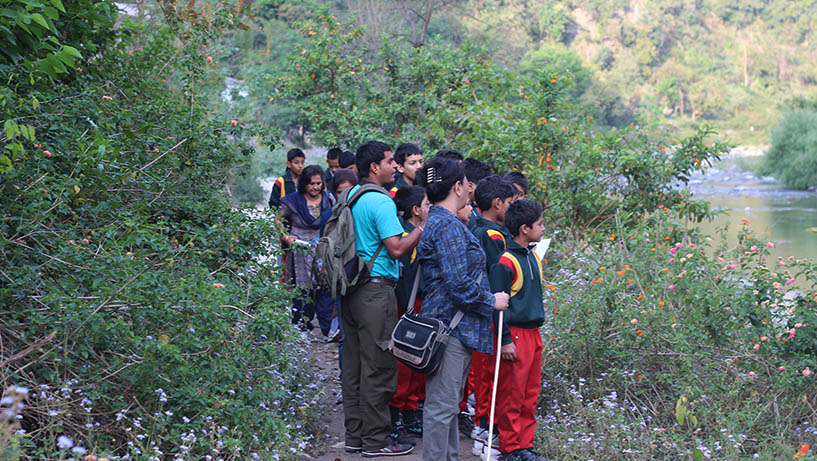 Aimed at children between the age group of 9 to 16 years, these camps are designed and mentored by some of the best coaches in this field. The aim of the camp is to give the participant an all round exposure to various activities which will enhance their physical, mental and emotional well being.
The modules and activities have been carefully developed considering the requirements of today's children and the present day scenario. The development team works closely with teachers and educational professionals nationally and internationally to continually refine and improve our programmes.
Takeaways
Go back with a variety of life enriching experiences, lifelong friends,
confidence, discovering yourself, appreciation and respect towards nature.
Some Schools who have gone outdoors with us:
Doon School, Welham Girls School, Pathways School, Hopetown Girls, Welham Boys, Doon International, Colonel Browns School, Blossoms School, The Indian Public School among others have experienced and enjoyed our programmes.
Treks 'n Rapids is probably the first outfit in the country to have organized an action packed, confidence building and heart-warming camping and adventure programme for the differently abled children in the Himalayas.
The flawlessly organized and conducted programme with the best of safety precautions and international standards was unanimously supported and appreciated by all the parents and the school authorities.
For us, the best reward was the highly motivated, charged and visibly more confident special children, who did not seem to be much different from theircounterparts in the regular schools, when it came to discipline, learning abilities and enthusiasm.
Why Chipmunks?
Interesting and immersive activities
Paramount importance to Safety of Kids
Hygienic and Nutritious Food
Highly seasoned and established mentors for the camp
Optimum ratio of camp attendants to Kids
Doctors on call
Single day program
Single Day events may include interesting on school campus events such as Astronomy, Obstacle Course, Hot Air Ballooning, Flying Fox, or off campus Adventure Picnics comprising of adventure sports and leadership development games suiting to the participants' age and aptitude.
Multi day programs
These programs are structured for 2 to 5 days duration and generally held our specially developed campuses in the Himalayas and at select curated properties at different parts of the country. The program includes multiple physical and creative activities for the kids.
Summer and Winter Camps
Summer/Winter camps are conducted in the month of April, May, June and December. These programs are generally for 5 to 7 days and are holistic in nature.
Physical
Rock Climbing, Hiking, Rope Courses, Raft making, Back packing, Mountain biking, Birding, Tree planting etc.
Mental
Creative Games, Journal Writing, Astronomy, Painting, Theatre, Story Telling etc.
Emotional
Yoga, Village Walks, Local tradition and legends, Folk arts
Accommodation
Multiple sharing accommodation with attached or common toilets, depending on the campus.
Some of the schools
we have been working with
A Big Thank You to All Who Believed in Us
"Beautiful arrangement in the wilderness. Nature's playful mood. In the midst of sun - shadow - thunder and howling pines, trying to catch the attention of visitors. The services were just awesome. Thanks to all."
Mrs. Naithani
Teacher, Welham Girls School
"We did a four nights and five days adventure camp in the Himalayas with Treks 'n Rapids. It was very well organised with a lot of activities for our group of fifty five boys. The food was well prepared and provided on time every day."
Ms. Avanti
Teacher, Welham Boys School
"The programme was excellent. Especially the night hiking was very exciting. The food was excellent. The excellent planning and exotic location completes the programme."
Mr. Sanaring Pamei
Teacher, Welham Girls School
It gives me immense pleasure to say this for Treks 'n Rapids, our age-old Partner in Adventure!
Avinash Singh Alag
Headmaster, Blossoms School - Meerut
Incase of any query please feel free to get in touch!