The corporate training division of Treks 'n Rapids is considered a pioneer in new age and innovative Experiential Learning Programs which combines outdoor games and adventure sports, carefully developed after extensive research and experimentation for organisational effectiveness.
'OUTPERFORM' our Corporate training module was started with a passion to give corporate India the best resource in Adventure Sports & Human Resource Enrichment. Our Experiential Learning Programs have been highly appreciated by leading corporate houses, management institutes, and professionals from different walks of life for their effectiveness in promoting overall personality and physio-emotional development.
WHEN THE TRAINING IS EXCITING,
SO ARE THE RESULTS
Research shows that experiential learning is more effective in human resource development than traditional class room simulation based training. Here, an individual is able to acquire, relate and apply skills and techniques gained from our specialized activities and games to real life issues and enhance work related competencies.
Our dedicated research & development team works day in and out to develop newer and more effective outdoor games and program modules by combining elements of Adventure Sports, Outdoor Games, Yoga, Meditation and Self Exploration Techniques.
Modules have been designed taking into consideration various human resource challenges an organisation faces today. These challenges can be in domains of Team Dynamics and Effectiveness, Leadership, Goal Setting, Trust, Motivation,Communication and Focus. Apart from the above challenges the modules also include exercises to tackle stress through our Stress Busting Programs which include Pranayama and Meditation, along with Nature Walks, Self-Exploration Exercises, and much more.
These programmes are conducted at two of specially developed campuses in Uttarakhand Himalayas and at associated resorts & campsites across the country. The client has a choice of availing of these modules at their own campuses or virtually any destination, subject to its suitability for the module and in consultation with our team.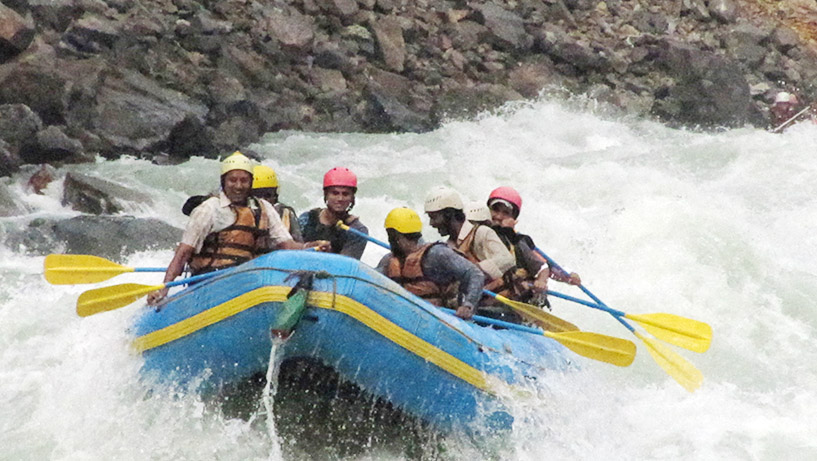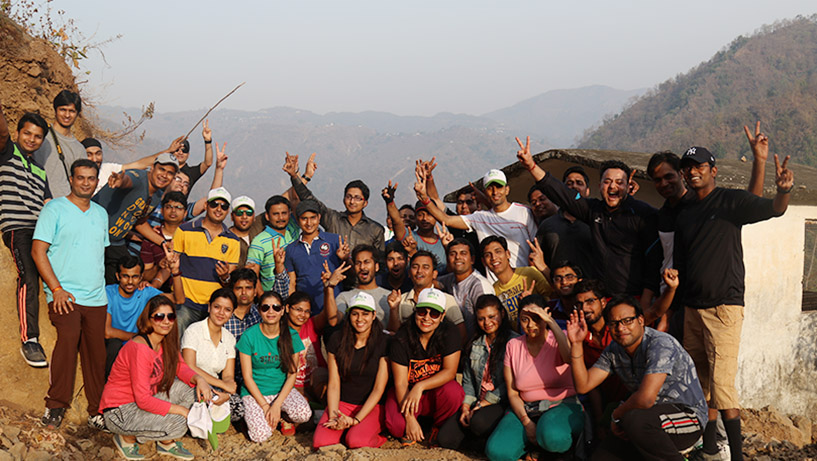 Outperform
Outperform programs are designed after a thorough understanding by the trainers of the organisation's needs and objectives. During the training and after the end of the program, the experiential learning trainers provide interactive feedback and insights to the participants on these aspects. These programs are highly enriching and provide valuable insights to the organisation on its human development health and are highly recommended for its effectiveness. These programs are ideally conducted over a 2 to 3 days period.
Outperfom Lite
These programs are designed for corporates who are short on time (or budgets) but wish to engage their employees in some meaningful activity rather than the regular class room training sessions. These programs can be conducted over a 1/2/3 day period.
Takeaways
Self Confidence and Team bonding between individuals
Develop mutual trust and understanding between members
Shared common goal
Inculcates leadership qualities in the group
Thinking outside the box
Better interpersonal skills
Why Treks 'n Rapids?
One of the pioneers in Corporate Outbound Programs in India
One of the best dedicated team of Experiential Learning Trainers
In-house team to develop newer and effective activities/games
Specialized Outdoor Activities
Spider's Web
Team Building and Planning Skills Development
Call of the Jungle
Coordination Skills and Communication Development
Legend of William Tell
Focus, Coordination and Interpersonal Communication Skills
Eskimo Walk
Team Building, Team Dynamics, Leadership and Planning Skills Development
Huff & Puff
Focus, Coordination Skills, Motivation and Team Dynamics
Golden Triangle
Team Building, Coordination Skills, Leadership and Effective Delegation
Height & Seek
Planning, Coordination, Focus and Team Building
In Search of Excellence
Planning and Strategizing
Mr.Pranav Kukreti
Brief Profile: Over 14 Years, combined experience in Tourism, Manpower Development (Experiential Learning Trainer, Environment Sensitivity Mentorand Outdoor Educator), Consultancy (Eco Tourism, Business & E Commerce) and Media
Education: MBA (NMIMS Mumbai; Batch of 2000)
Avid adventurer. Hiked, Cycled, Paddled and Dived at various places in India & Internationally. Certifications in White Water Rafting & Aero Sports, among others. Environmentalist & pioneer in New Age Manpower Development Techniques. Interests include human psychology & modern spirituality. In addition to being a life-member of National Adventure Foundation, Pranav is also Convener of Panel on Tourism Development and State Council Member for Confederation of Indian Industry (Uttarakhand). He has been training entry to top level managers from various Indian and Multi National Corporations, including Perfetti Van Melle, Reliance, Delphi Automotive Systems, Tata Motors Ltd, Murugappa Group, Tata Consultancy Services, and many more since 2002.
Focus Areas: Bonding, Team Building, Motivation, Leadership and Stress Management
Dr. Pankaj Bijalwan
Brief Profile: Over 13 Years, combined experience in Management Education, Manpower Development, Human Resources and Adventure Tourism
Education: MBA (Human Resource Management; Batch of 2000); PhD Core member of the R&D team to develop newer and innovative modules, activities testing and implementation for ELPs. Pankaj has mentored entry to top level managers from corporations such as Tata Motors, Delphi Automotive Systems, Perfetti Van Melle, Reliance Capital and many others since the inception of the company.
Focus Areas: Leadership, Sense of Responsibility and Team Building
Mr. Dinesh Uniyal
Brief Profile: Dinesh is a certified A grade, advance level mountaineer from NIM Uttarkashi, and has done innumerable successful climbs and led various expeditions to altitudes over 21,000 feet in the Himalayas. In addition to Mountaineering and outdoors, Dinesh is also an accomplished Yogatrainer having keen interest in mythologies, Vedas and Upanishads. Dinesh and his team of outdoor activity specialists have been the backbone of all the Outperform and Outperform Lite programmes since 2002.
SOME OF THE CORPORATIONS
THAT HAVE GONE OUTDOORS WITH US
A Big Thank You to All Who Believed in Us
"Thank you for the wonderful offsite organized for Procter & Gamble at Whispering Pines"
Mr. Sameer Kela,
Asso. Director,P&G
"The programme was well conducted and found extremely beneficial"
Ms. Tarang Nagpal
HR, Delphi
"To be very honest, it brought about a positive confidence development coupled with team building& a sense of closely inter-woven bonding among all the participants"
Mr. Kamlesh K. Verma
GM - HR, Eigen
"I came here with a bunch of good, but raw stones & am going back with each one developed as rock solid diamond"
Mr. Tapan Patel
MD, BST Sayona
"The programme certainly met the unstated objective of fostering team spirit & generating a feeling of oneness among the various people who attended"
Mr. Sandeep Jain
CFO, Perfetti Van Melle
Incase of any query please feel free to get in touch!